Return to School #7: Why are animals grouping and what the heck is a cubit?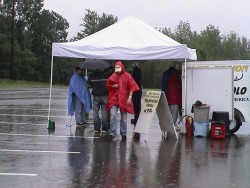 Registration, in the rain....
For the seventh year in a row, our September 2nd Labor Day weekend event was held at Corning Community College on a Saturday. Not surprisingly, we suffered through some rain. I say not surprisingly,as over the years Labor Day weekend has been a weekend of rain, at least as far as the Glen Region and autocrossing are concerned. This time, however, we really, really, really outdid ourselves in the precipitation department. Tropical storm Ernesto blew in for an end of summer visit and did his level best to dampen our spirits and everything inbetween. Forget about the buckets, the rain literally came down in sheets and was so heavy and started so early that after multiple failures of the timing equipment, radios, and raingear we decided to call it quits. I do not ever remember Glen Region stopping a Solo II event before its scheduled completion, but it was just no longer possible to continue given the conditions. This also may explain why instead of a more typical Labor Day weekend attendance in the mid 30s or 40s, only 22 drivers took their chances on a day better served by a bassboat than a Honda. Not that we didn't get at least three runs apiece, but we weren't up to the more typically generous Glen Region minimum of six runs per driver and that was a disappointment that would have to wait for another, hopefully drier day to be resolved.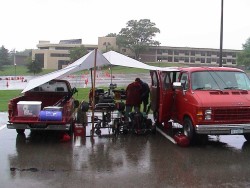 Three karts huddled under a makeshift tent.
If nothing else, at least the Corning Community College lot we use every year was a winner. This lot is set on the back side of the campus and is well maintained. It presents challenges to course designers and drivers alike as it rolls down a hillside in two different directions. Even under the best of climatic conditions this lot offers different levels of adhesion and different inclines on which to drive, a real challenge. The design committee, consisting of Casey and Eric, selected a layout which simultaneously took good advantage of the lot's strengths while maintaining safety, and they even allowed for the heavy rain which did come. The proof of their skills was the relatively low cone-killage and off-courses despite weather conditions which would normally guarantee lost cars and displaced pylons.

The largest classes of the day were H-Stock, D-Street Prepared, and Street Touring 2. In H-Stock Jeff Weaver ('02 Ford Focus) got out to an early lead and never gave it up, achieving the best PAX time in the process. Taki Isobe trading in his Pontiac Grand AM for a Subaru Impreza was good enough to edge out newcomer Orion Craigue ('96 Subaru Legacy Wagon) for second place, but not good enough to get by Jeff. As competitive as things were in H-Stock, D-Street Prepared was the more hotly contested. Greg and Ken Pierce, both in their '87 BMW 325is, seesawed back and forth for the lead until Ken nailed it in the third and final run. John Pierce, driving the same BMW, had to be satisfied with third in this perennially, hotly contested group. Meanwhile in Street Touring 2 and echoing D-Street Prepared, three drivers drove one car ('92 Mazda Miata). Among the three was our usual lone Super Stock driver, Aaron Boltman. The rain being heavy made it hard to tell which driver was which, but Aaron showed that one doesn't need a Corvette to punish pylons for infractions real and imaginary. He made a point of striking down as many cones as he could, making driver identification easy. Unfortunately, he had to be satisfied with second place as Jacob Massey took home the Street Touring 2 trophy and third place went to Chip Massey.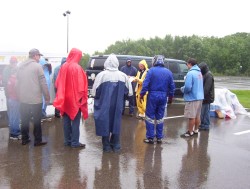 Just read the results quickly and let us go!
Other multiple driver classes included A-Stock where I committed a solo faux pas edging out Eric Navestad in his '00 Honda S2000. Even more inappropriate than my depriving a car owner of a deserved class victory was Tom Deneka's decision to switch to the STX class with a "girl's car" ('02 Subaru WRX wagon) in the process and still managing to beat the current STX class champion, Ken Moyer ('97 Honda Prelude). That's just plain cruel, Tom. In Street Modified, Jason Templar ('05 Dodge Neon SRT4) had difficulty finding the course, but when he did he was fast enough to get ahead of Michael Geyer ('98 BMW M3) and to take first place while doing it. Finally, they may not run when conditions are ideal but the Shifter Cart 125 class ran well in the rain, seeing Casey Creamer ('05 MW Chassis Cart) easily achieve fastest time of the day (FTD) while simultaneously taking class honors away from Pat Scopelliti ('91 Techno Cart) in the process. There were several single driver classes, as well. If you'd like to see what they did and see the official results check them out online at http://www.glen-scca.org/solo/2006/results20060902.asp.

On behalf of the Glen Region thanks to the good people at Corning Community College for renting us their lot. It's a great one. Also, high praise to Casey and Eric for a great course design and to Jeff Weaver for chairing the event. It wasn't an easy job with all of that rain and all of the problems the rain caused, but you folks made it possible. The next event is scheduled for Sunday, September 17. Although the site has yet to be announced at the time this article was written, rumor suggested a return to the Arnot Mall. You might want to check out the web site just to be sure. This time we really will keep the timing lights on just for you. _