For Sale or Rent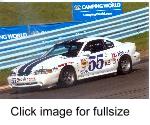 For Sale: 1995-based Ford Mustang Cobra A-Sedan National car with many great Runoffs results. Professionally built, new Morollo full-race 302 with 1.5 hour track time. Rebuilt Tremec 5-speed. Koni double-adjustables. Monoballs. 3 complete sets of wheels, 2 with Hoosier slicks, 1 with Hoosier rains. Brand new Baer racing brakes on all 4 corners. 6-point harness good through 2014. Wired for radio. Current SCCA LogBook with Annual Tech Inspection. Balanced and 100% sorted. Absolutely race ready.

Plus, literally tens of thousands of dollars in spares, including nose, rear wing, Koni doubles and struts , racing radiator, various rate spring sets, calipers, rotors, motor parts, and anything else that could break or wear out!

This car's impressive history, a comprehensive Build Sheet, and complete Listing of Spares are available upon request. New owner will receive all documentation, dyno sheets, log books, and setup information. We have a new project waiting, so $17,500 for everything!

Phone Ed at 607-535-4237 - Watkins Glen.
To list something for sale or rent, send information to webmaster